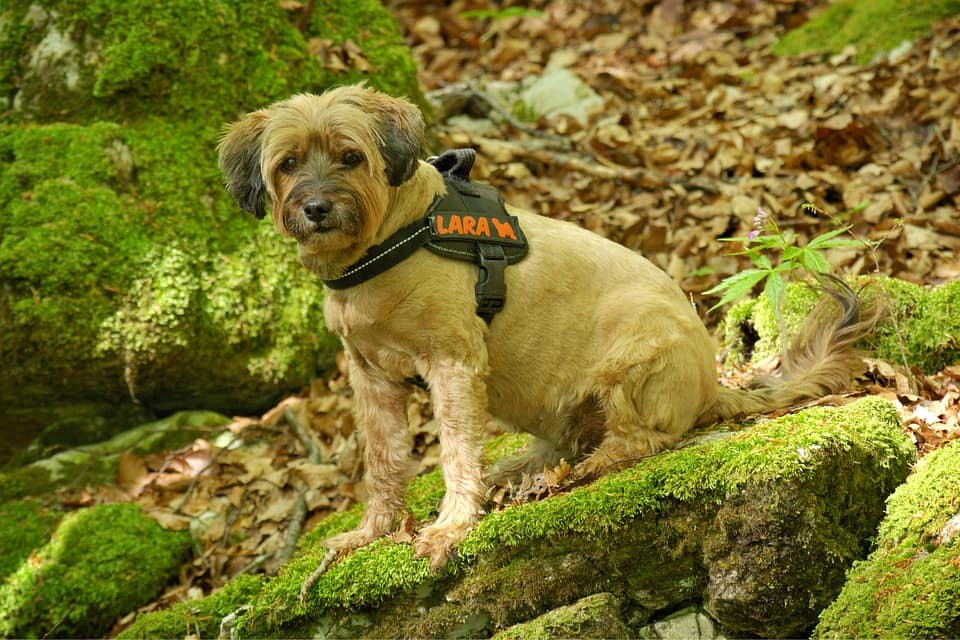 We hope you love the products we recommend and just so you know that as an Amazon Associate, we may earn from qualifying purchases.
When pet owners search for the perfect dog harness for their pets they take into account a number of factors. Does your dog pull when walking? If your dog is a "puller", then you know the importance of having the proper dog harness so that you do not end up getting dragged around.
If your dog is leashed trained and does not pull, conventional harnesses will work fine but you want something that will be comfortable for the animal. Unfortunately, not all harnesses are created equal when it comes to comfort. When choosing a harness for your pet, it is extremely important to measure the animal correctly and get the right size. All too many times if the harness is too snug it will cut into the chest and under the front legs. Sores can and will develop if the harness is not checked regularly. All dog harnesses should be checked daily when being put on your pet. A dog harness with good adjustment straps is a must if your dog will be spending a lot of time in it.
Get your dog to like having his harness put on - dog training
Measuring for the Dog Harness
When fitting your dog for a harness, use a cloth measuring tape. If you do not have a cloth measuring tape there is a simple trick. Use a piece of string or yarn. When using the string method be sure that the string does not stretch. You want the most accurate measurement you can obtain. First, you will want to measure the girth area. The girth area is the widest area on your dog's chest. Find the widest part right behind the front legs and measure around the girth. Once you get the measurement be sure to write it down. The next area to measure is your dog's neck. Once again, write the measurement down. These are the measurements you will need when choosing the harness size. If your dog will not stay still for the measuring try to get someone to help you. Trying to measure a frisky pup can be a battle like no other. If you do not end up in a knot the pup may be running around with the measuring tape in his mouth.
Different manufacturers will use different measurements, so be sure to read what is required. Some will have you add two inches to the girth while others will take the true measurement size.
Let's have a look at a couple of well-known harnesses and compare the two.
The Blueberry Summer Hope Harness
Blueberry Pet is well-known for their harnesses. This company gets rave reviews from the customers, and the workmanship is great. The Blueberry Summer Hope harnesses will last a long time and comfortable for the dog. This harness is made with reflective material and comes in four different colors. Colors available are fluorescent green, orange, pink and yellow.
Neoprene harness has 3M reflective material so that vehicles can see your pet. These harnesses are great for those who like to walk their pets after dark or before the sun comes up. Perfect for the owner and pet who love to jog together.
Extra padding is used where the harness touches the neck and chest area. The extra padding keeps the dog comfortable and does not cut into the skin.
Extra padding in the chest area diminishes the chance of injury to the diaphragm.
Ring near logo area is for identification or charms. No leash should be attached here.
Leash ring is large for fast leash attachment.
Harness and collar are sold separately.
Accurate measurement is a must for proper fit.
Harness is able to breathe for a comfortable fit.
Girth straps make for easy fit adjustments.
Harness snaps at sides so there is no having to get the pets feet through the holes in the front. Great for skittish dogs.
All-in-all the Blueberry Pet Summer Hope 3M Reflective No Pull Neoprene Padded Harness is a wonderful harness for the dogs in your life. The only drawback was if you have a dog that really pulls the control isn't the best. If you are looking for a harness for better pull control this may not be the one you are looking for. Yes, the chest is padded but the pet can still pull with force making it hard to control the animal. If you have a dog that does not pull you along, this product is highly recommended.
PetSafe Easy Walk Dog Harness
This harness is made by the company PetSafe. PetSafe does make quality pet care items and has always received outstanding reviews from pet owners. As many of us dog owners know if you are walking a dog that pulls it can get tiring quick. There are also those dogs who will spook very easily and bolt. Of course, a dog that pulls constantly can wear down the owner quickly. By the time the walk is finished you may feel like you have attempted a marathon and your arms and shoulders may hurt.
The Easy Walk Harness by PetSafe is a high-quality harness that is specifically developed to help the pulling associated with walking your dog. Unlike a choke collar or other means of trying to diminish pulling while walking, the PetSafe Easy Walk Harness is a gentle guidance. Many times a person will buy a choke collar in desperation to be able to take the dog for a walk. There is no need to resort to shocking or choking a dog to get him/her to stop pulling.
Harness that Guides
The Easy Walk Harness gently guides your dog into a circle that steers the dog back towards you. Once the dog is at your side you can then again begin the walking.
Constructed with nylon, the product is soft and strong.
Gently pulls your dog back around towards you.
No having to inflict pain on your fur baby.
Snap buckles are on the shoulder straps AND belly straps. No having to wrestle your dog to get the legs into the front holes.
Adjustable snap buckles allows for a great fit on all pressure points.
Soft nylon does not cut into the skin.
Product is available in a wide variety of colors for all types of dogs. Again, be sure to measure your dog correctly. If you have sizing question the PetSafe website has a size guard.
After testing this harness on a 50-pound puppy that is extremely skittish, I fell in love. Pup and I are able to take long walks without me having to worry about getting yanked. I no longer have to be afraid of cars driving by and the risk of her pulling and getting away from me.
Another great factor is the company has made the belly strap a different color so there is no fumbling to put the product on. Align the harness, snap the buckles together and off you go.
For those who want to end the misery and pulling when trying to walk their dogs, this is the way to go! PetSafe has come to my rescue and I am sure a lot of other dog owners rescue. Walks are now enjoyable and stress-free.
In conclusion: The Blueberry Pet Summer Hope 3M Reflective No Pull Neoprene Padded Dog Harness VS. PetSafe Easy Walk Harness were great products to review. Both companies make high-quality pet products that serve particular purposes. Although I did not get the control over the pulling with The Blueberry Pet Summer Hope 3M Reflective No Pull Neoprene Padded Dog Harness, I certainly love it for jogging with my older (better trained) pooch. I highly recommend both of these products for the fur babies.
Side Note: Because of the way the PetSafe Easy Walk Dog Harness is constructed when you are not walking your pup take the harness off. For those dogs that are vigorous chewers, they are able to get their mouth under the chest area and is chewed through within minutes. If your dog does chew through the harness call customer service at PetSafe and the harness can be replaced for a small fee.