We hope you love the products we recommend and just so you know that as an Amazon Associate, we may earn from qualifying purchases.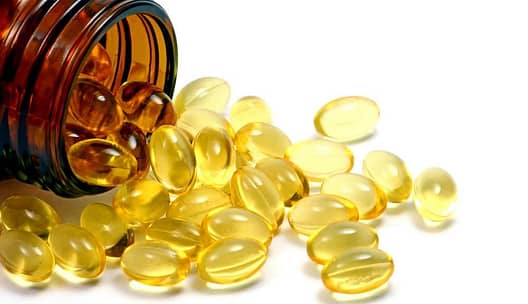 Did you know that dogs too need vitamins, just like us human beings? Amongst the many vitamins, vitamin E plays an integral part in a dog's diet. It's a powerful antioxidant that benefits your dog's health in more ways than one, which is why it should be included in their food.
Most dry dog foods do contain tocopherols, a form of vitamin E, but with a relatively low shelf life. And as your feeding routine may reduce the amount of vitamin E your dog receives, he may require some supplements to prevent serious vitamin E deficiency problems.
Importance of vitamin E
As vitamin E is an antioxidant, it protects cells from free radical damage. It's also needed to support your dog's body immunity, to form red blood cells and to prevent blood clotting problems.
Vitamin E deficiency can lead to various problems like reproductive problems in both male and female dogs, retina and digestive tract lining degeneration and degeneration of the skeletal, cardiac and smooth muscles. It can also lead to fluid accumulation under the skin, depression, loss of appetite and thirst, coma and possible death in extreme cases.
Benefits of vitamin E supplements
The right vitamin E dosage improves your dog's health in the following ways:
Enhanced connective tissue health
Vitamin E promotes your dog's skin and coat health by supporting connective tissue health by minimizing the loss of skin and muscle elasticity. It's anti-inflammatory properties also help reduce itching in dogs suffering from allergies.
Better body immunity
While unstable free radicals attack healthy cells and threaten your dog's immunity, vitamin E improves your dog's immunity by reducing the formation of free radicals and preventing damage inflicted by severe health problems. In fact, vitamin E supplements help fortify your dog's immunity to keep him robust and healthy longer.
Improved cardiovascular health
Vitamin E has an integral part in developing your dog's cardiovascular health by oxygenating the blood and improving heart and artery circulation. It also heals and prevents circulatory diseases like tachycardia and arteriosclerosis.
Treats dry and itchy skin
Dry, itchy and flaky skin is called canine atopic dermatitis (CAD), a common symptom of vitamin E deficiency triggered by an irritant. Vitamin E supplements increase vitamin E levels and reduce CAD symptoms.
Miscellaneous
Vitamin E also helps promote fertility in dogs, delays their aging process, regulates their digestive system, prevents cataracts and also supports their cellular and respiratory health.
Vitamin E dosage for dogs
Vitamin E is usually available as a soft gel capsule for consumption and oils for external application. It's safe to administer vitamin E to dogs orally as long as the supplement doesn't contain any dog-toxic additives.
The ideal feeding formula for your dog depends on factors like the amount of food your dog consumes and their stage of life, size and activity levels. So working, breeding and highly active dog need a higher dosage, which is why it's better to consult your doctor for the perfect dosage for your dog.
While 4,000 to 6,000 international units (IU) don't seem to trigger side effects, it's recommended to give small dogs 400 IU per day for small dogs and large dogs 800 IU per day. Topical vitamin E may be relatively safe but still needs veterinary guidance.
Possible Risks
Vitamin E is indeed beneficial to dogs, but too much of anything is wrong. Excessive vitamin E dosage can increase the body's tendency to absorb other fat-soluble vitamins, reduce blood coagulation and trigger bleeding problems by disturbing the body's absorption of vitamins D and K.
Besides, some vitamins and supplements can lead to counterproductive results if taken together. And as different dogs utilize food and supplements differently, it's always better to consult your veterinarian about the proper vitamin E dosage for dogs before starting any supplement course.
Vitamin E Supplement Reviews
Here are three of the top Vitamin E supplements available from amazon.com. It's a countdown!
#3
Pure Wild Alaskan Salmon Oil for Dogs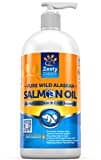 Worried about your dog's dry and dull coat and creaky joints? Why not help him by supplementing his diet with Wild Omega 3 Fish Oil for Dogs Supplement. It contains 1000IU sunflower vitamin E per 5 ml that efficiently protects against vitamin E deficiency from added fish oil.

This oil may be a bit expensive, but it's better than the cheaper versions containing heavy metals and toxins. Bonnie and Clyde's Wild Omega-3 supplements are tested for purity and freshness by a third party program.

Wild Omega-3 has more than 100x the vitamin E found in other brands to effectively replaces any vitamin E your pet loses through his diet. The vitamin E is from a non-GMO, soy-free source and as it's more concentrated than cod liver and krill oil, it adds fewer fat calories to your pet's diet.

Unlike other brands, Wild Omega-3 is practically odourless but rich in flavor. The supplement comes in a tightly sealed bottle and a pump for easy serving. 1 pump equals to 2 ml per 20 lbs of your dog's body weight and should be added every day to their food.

PROS:

•    Lifetime guarantee with 100% money back guarantee

•    Improves your dog's skin, coat, joint and heart health

•    Smell removed through deodorization while taste is intact

•    Contains 1000IU sunflower vitamin E per 5 ml

•    Tested by a third party for freshness and purity

•    Can be used for four months after opening if well refrigerated

•    Contains vitamin E

•    Helps control dandruff

CONS:

•    Overfeeding can induce diarrhea

•    Not meant for dogs with bleeding disorders or on anticoagulant therapy

•    A bit expensive, but expected for its quality

•    Some dogs don't like its taste
#2   
NaturVet All-in-One 4-IN-1 Support for Dogs
Need a multi-supplement for your dog? Well, the NaturVet All-In-One 4-in-1 should be just what you need. These are soft chews comprising of four supplements in a single tablet. It supports your dog's health in four ways through improved digestion, increased joint mobility, better skin and coat and improved overall health.

The bottle contains 60 made in USA delicious soft chews and contains no wheat or other filler ingredients. It's perfect for dogs aged more than 12 weeks and will give results if given every day with each meal. The supplement can be equally divided between your dog's morning and afternoon meals if needed.

NaturVet contains digestive enzymes that improve your dog's digestion, omegas-3, 6 and 9 to give your dog healthy and shiny skin and coat, glucosamine, and chondroitin for extra joint support and vitamins and minerals supporting his overall health.

PROS:

•    4-in-1 and multi-functional supplement

•    Helps digestion, improves skin and coat health, improves overall health and provides joint support for optimal joint functioning

•    Does not contain wheat

•    Soft and chewy palatable tablets

•    Made in the USA

•    Comes with a 100% satisfaction guarantee

•    Dosage can be divided between your dog's morning and afternoon meals if needed

CONS:

•    Meant for dogs aged 12 weeks and above

•    Some dogs don't like its taste much

•    Contains too many additives, fillers, and unnatural ingredients

•    Not for dogs with sensitive digestive systems, skin allergies and those on a grain-free or raw diet

•    Price increase
#1 
Amazing Nutritionals Omega-3 Fish Oil Chew-able Tablet for Dogs
The Amazing Nutritionals Omega-3 Fish Oil Chew-able tablet not only tastes great, but treats your dog's skin and coat conditions and protects his heart, joints, and immune system. It helps maintain your dog's health by giving your dog optimum skin and coat healthy with increased joint mobility.

This is a complete omega 3-6-9 fish oil chewable tablet with bacon and liver flavoring that your dogs will love consuming. It's safe to take every day as it does not contain any fish, crab, shark, avocado or shrimp that may hurt your pet.

Amazing Nutritionals is made in the USA and is tested by a 3rd party for purity and excellence. It doesn't have to be refrigerated once opened. Each bottle has 60 free tablets, giving your dog a total of 120 tasty, chewable tablets.

PROS:

•    100% satisfaction guarantee with 100% money back refund

•    Promotes your dog's total health through joint pain relief, brain health, a shiny coat and healthy bones

•    Made in the USA

•    Proven safe and effective after third-party testing

•    Marked improvement in dog's health within 30 days or get a complete refund

•    Bacon and liver flavored

•    Rich in omega 3-6-9 fatty acids

•    No fishy smell and needs no refrigeration

•    Reasonably priced

•    Good customer service

CONS:

•    Some dogs dislike the taste

•    Can lead to diarrhea and vomiting in some dogs

•    Does not contain additional vitamin E so you may need an extra supplement